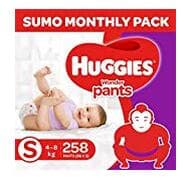 Huggies Wonder Pants Diapers Sumo Pack, Small (258 Count)
About Product :-
The 3-D Bubble-BedTM in the inside layer of the diaper is super fluffy and provides cotton like softness to the baby's skin.
The 3-D Bubble-BedTM ensures excellent absorption and spreads the wetness evenly - leading to outstanding dryness.
Bubble wala Huggies absorbs wetness for up to 12 hours to allow the baby a dry and comfortable sleep overnight.
The 3-D Bubble-BedTM traps waste matter like runny poo to keep the surface of the diaper unbelievably dry.
Bubble wala Huggies comes with a Cushiony Waistband, which is so soft that it helps protect the baby's waist against red marks.
The super flexible waist band elastic provides the baby with a comfortable fit and adapts to the baby's movements.
These disposable diapers come with a Triple Leak-guard, an extra padding on the sides of diaper, which helps reduce leakage from the sides on to the baby's thigh & legs.
Bubble wala Huggies also has an Air-Fresh cover, which allows air and vapour to pass through, and helps protect against the occurrence of rashes.
More offers from Amazon India