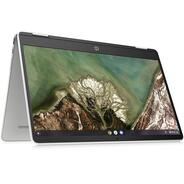 HP Chromebook x360 14-inch (35.56 cms) Thin & Light Touchscreen Laptop
About Product :-
Google Assistant: Voice-Enabled Google Assistant built-in, work faster and smarter without lifting a finger or switching screens. Ask questions, set reminders, play videos, control your home, and more. Make Google do it.
Boots in Seconds: Powered by Chrome OS with automatic software updates so you'll always have the latest virus protection. It starts up in less than 10 seconds, stays fast throughout the day, and wonât slow down over time
Touch Screen: Reach out and control your PC with just a touch. Pinch, zoom, tap, and swipe right from the screen
Microsoft Office compatible: With access to Microsoft Word, Excel, and Powerpoint from the Google Play Store, you can be confident that your Chromebook will allow you to use the productivity software you need
Hassle-free device: Secure updates in the background deliver new fixes and features and enhanced experiences.
More offers from Amazon India