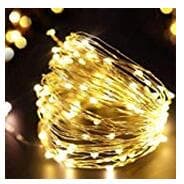 Homesake 50-LED Fairy Copper String Diwali Lights 5m Waterproof, 3AA Battery, Warm White String Lights Fairy String Lights For Diwali,Christmas,Home Decor, Party,Bedroom,Dorm Room, Photography,Tapestry Decoration
About Product :-
Gorgeous LED Fairy Lights: Each string has 50pcs bright LEDs bulbs on 9ft silver plated copper wire. Give out warm and romantic lights, ideal for decorating bedroom, table, party, etc.
Long Life Batteries : You need 1.5 V batteries, which could support over 100 hours Non-Stop Lighting and much longer time when used with breaks. These fairy lights won't be overheated and still remains cool after prolonged use.
Lightweight & Portable : These mini fairy lights built to be portable. You can easily carry and place the string lights anywhere you like.
Flexible and Durable : Made of silver plated copper wire, enables you to shape, model, or wrapping around easily. The wire is invisible in the dark, leaving only the bright lights.
DECORATION: Best suited for Dining Room, Bedroom, Living Room, Bar, Restaurants, Study Room, Aisle, Corridor, Coffee Shop.
More offers from Amazon India