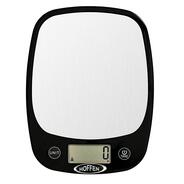 Hoffen Digital Kitchen Weighing Scale & Food Weight Machine for Health, Fitness, Home Baking & Cooking Scale
About Product :-
UPGRADED TOUCH SCREEN BUTTONS: Easy to use and sensitive touch buttons reduce accumulation of dirt and water which increases life of product .
BATTERIES INCLUDED: The scale comes handy with 1 ready to use Cr2032 Battery .Features Low battery & Overload Indicators
MADE IN INDIA: Product is specially desigened for the India . Hoffen is a Registered Indian Brand Registered Indian Brand aiming to bring quality innovative products.
More offers from Amazon India