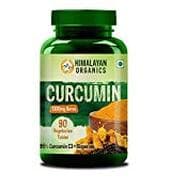 Himalayan Organics Curcumin with Bioperine, Organic Curcumin, 95% Curcuminoids (1300mg/serve) - 90 Count (1)
About Product :-
?? HIGHEST POTENCY TURMERIC WITH BIOPERINE: Our premium T3 Turmeric Curcumin Complex 1300mg, with standardized 95% Curcuminoids and Enhanced with 10mg Bioperine (Black Pepper) for best absorption.
?? ANTI-INFLAMMATORY POWERHOUSE: Turmeric is arguably one of the most powerful herbs on the planet. Curcumin specifically, one of the primary compounds in turmeric powder, has been reported to be one of the most advantageous herbs. Turmeric Curcumin is an anti-inflammatory powerhouse.
?? BLACK PEPPER EXTRACT FOR BEST ABSORPTION: Black pepper extract has been shown to improve the bioavailability of many herbs and spices. Our Turmeric Curcumin Extract with Bioperine Black Pepper Extract provides as much as 2000x better absorption than consuming turmeric capsules alone.
?? RELATED: Turmeric Curcumin with Bioperine 10 1000 1500mg 1950mg 2k 500 95 anti antioxidant benefits best bio black capsules circumin cucermin cucumin cucurmin curcuma curcumen curcuminoids curcurmin curicum dosage effects ginger health inflammation inflammatory joint mg natural nature nature's natures nutrition organic pain pepper phytosome pills piperine powder relief serious side skin smarter spring supplements tablets take tumeric tumetic tummeric tumric tumuric turmeric' turmic valley.
More offers from Amazon India