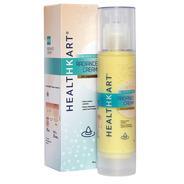 HealthKart Radiance Cream, Paraben free 100 g for All Skin Types
About Product :-
Scientifically formulated product for managing skin pigmentation with latest vaccum pump technology
Enriched with Arbutin, Vitamin E, Kojic acid & Nicotinamide
HealthKart Radiance cream may help in managing skin pigmentation, protecting the skin from UV damage
HealthKart Radiance cream may help to make the skin look younger, fresh & plump
Wash your face & pat dry. Apply HealthKart Radiance cream on face & neck & massage gently into the skin. For better results, use regularly for 2-3 months.
Free Shipping for Amazon Prime Members,
Subscribe
More offers from Amazon India