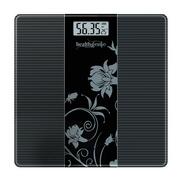 Healthgenie Thick Tempered Glass Lcd Display Digital Weighing Machine
About Product :-
Healthgenie Electronic Digital Personal weighing scale-(Black) is an easy to use and it is beautifully designed with tempered black colored glass with greyish color printed Flower design vertically which makes it look much more attractive and fashionable
Size and Display :- Digital scale has a platform size of 260 x260mm which provides a perfect foot space for users. It also comes with button battery. It has a brighter and wide LCD display of size 7 x 2. 7 Cm which helps the users to see their results clearly.
Step ON Technology :- Healthgenie weighing scale comes with step on technology,it means the scale shows immediate reading as soon as stepped on the scale
Auto Calibration :- Healthgenie Weighing Scale comes with auto calibration feature for initial use, it would require to step on the scale and step off immidiately so that the scale get calibrated, it also have highly precised G- sensors for more accuracy.
More offers from Amazon India