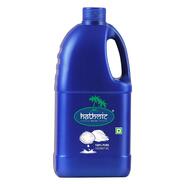 Hathmic 100% Pure Coconut Oil, 1L
About Product :-
Hathmic 100% pure coconut oil is extracted from the finest quality handpicked sundried Copra to maintain its high quality standard in the Coconut oil with all the natural nutrients.
The coconut oil does not contain any chemicals, artificial fragrance or any coloring. It's a pure coconut oil with a fresh coconut Aroma.
Naturally filtered to possess the tropical coconut aroma and taste.
The presence of Lauric acid and MCT's in the coconut oil is beneficial in many ways and keeps your dietary lifestyle in check.
More offers from Amazon India