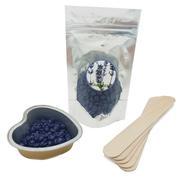 Hard Wax Beans, Natural Full-Body Hair Removal Wax Bean Professional Solid Pearl Wax
About Product :-
Natural wax ingredients, no harms to your health. The hair remove is a physical process, so it doesn't hurt the skin.
Can remove above 90% of the hairs you want to remove at one time, then you can use a tweezer to remove the rest hairs or apply the wax a second time,that will be very easy.
Easy operation: Simply melt the wax beans in a wax warmer, it can also be melted in a cup in the microwave, then use a spatula to apply the wax to your unwanted hairs. When the wax gets dry, tear it off from your skin directly with no cellophane or non-woven strip needed!
More offers from Amazon India