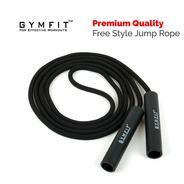 Gymfit Fitness Rope - For Exercise Through Skipping and Jumping
About Product :-
EXTREMELY COMFORTABLE HANDLES : Handles Are Designed With Spark Surface Finish To Provide Better Grip, 5 Inch Long Makes It Feel Comfortable On Every Hand And Engineered With Appropriate Weight.
ADJUSTABLE AND RESIZABLE : The Standard 9 Feet Rope Is Easy To Customize On Its Length, Which Makes It More Comfortable For Every Individual. COMPLETE BODY WORKOUT : Fitness Experts Believes That Skipping Ropes Are The Most Comprehensive And Total Body Workout Companion.
ACCLAIMED BRAIDED DESIGN : To Stand Out Unique And Rich, The Rope Is Encapsulated With Braided Design On Its Outer Side And Does Not Even Tangle. NO CABLES / NO WIRES : Polyester Threaded Rope Makes It Extremely Safe And Does Not Hurt When You Miss Out Your Step During Workout.
Free Shipping for Amazon Prime Members,
Subscribe
More offers from Amazon India