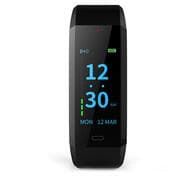 GOQii VITAL 2.0 Activity Tracker with BP Monitor & 3 months Personal Coaching
About Product :-
The all new Blood Pressure Monitor measures your systolic and diastolic blood pressure. Roughly takes a minute to show BP. The user needs to set the blood pressure range in the GOQii App to measure BP in the tracker
Broader OLED colour screen & Upto 10-15 days battery life under normal usage
Use Phone GPS to track your exercise duration, steps, heart rate, pace, route taken and time.
Separate charger is not required. USB integrated charger present on device. Connect the core to USB port of laptop, power bank or any mobile charger for charging
Connects wirelessly via Bluetooth to GOQii iOS (ver 8.0 and above) or Android app (ver 4.3 and above)
Waterproof and swim friendly.
More offers from Amazon India