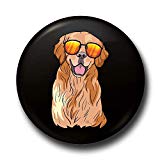 Golden Labrador Retriever Dog Sunglasses Button Badge, Funny Gift for Pet Lovers (Black, 44mm)
About Product :-
Golden Labrador Retriever Dog Sunglasses Button Badge, Funny Gift for Pet Lovers (Black, 44mm)
Perfect for gifts. Add to cart, Buy now!
Shiny gloss finish. Available in 44mm and 58mm diamter sizes. Strong plastic back. Protective pin fastener to protect the badge from falling. Let these button badges shine on your shirts, hand bags or backpacks.
Great gift giving ideas for Birthday, Valentines Day, Mothers Day, Fathers Day, Wedding Anniversary, Marriage, Graduation, Retirement, Rakhi, New Parents, Engagement, Holi, Diwali, Dussera, New Year and Christmas.
What are you waiting for? Add this item to cart, buy now and surprise your loved ones!
More offers from Amazon India