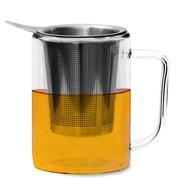 Glenburn Tea Direct Glass Infuser Mug (200ml)
About Product :-
The fine stainless steel holes allows easy adjustment of tea concentration, reduce unwanted leaves floating in your cup, allow water to move through tea leaves but keep most of them in the infuser. Works well with most leaf teas, herbal teas and flower teas. Enjoy the visual experience of brewing through the transparent glass while feeling the nice smell.
Ultra-dense filter keeps any residues from escaping to your tea. Made of stainless steel, the filter is durable and will keep its form for years to come.
Being comprised of three detachable pieces, the cup can be disassembled and cleaned in an easy and thorough way.
The stainless steel lid serves as a coaster for the tea infuser. Brew your tea for the perfect amount of time, place the lid as a coaster and the infuser on top of it. You're all ready to sip your cup of tea!
More offers from Amazon India