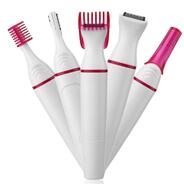 GlamTools® 5-in-1 Beauty Styler Hair Electric Trimmer for Women (Multicolour)
Product Details -
Hair Removal Trimmer Kit is quick & simple facial care, unwanted hair remover & trimmer, grooming kit for daily use.
Gentle hair removal and precise shaping for your delicate body parts, ideal for upper lip, side burns and eyebrows
No pain , No irritation. Easy To Use, This Trimmer Lets You Do Quick Eyebrow Shaping And Touch Ups On The Go
High Precision: Dedicated Accessories To Get Precise Shaping And Styling Sales Package Contins: 1 N 2 Sided Trimming Head(16Mm And 6Mm), 1 N Combo(2Mm & 4Mm), 1 N Styer Cap, 1 N Sided Trimming Head(20 Mm), Comb Attachment, An Cleaning Brush, 1.Seamlessly Get Rid Of Any Unwanted Hair 2.Perfect For Quick Touch 3.Ups 4.Can Be Rinsed With Water. 5.Cordless Trimmer Package Includes :1 precision head, 1 bikini head, 2 combs, 1 beauty cap
Ideal also for quick touch-ups wherever you go ,Wide Range of Accessories: precision head, bikini head, comb, beauty cap, cleaning brush, beauty pouch.
More offers from Amazon India