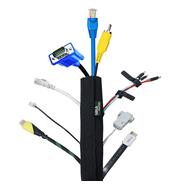 Gizga Cable Organiser Manager, Gizga Essentials Cord Management System for Pc
About Product :-
NEAT & TIDY: Perfect for organizing and concealing all types of cables, including computer, power cable, USB cable and other wires, using at home or office. No more messy cables!! Our cable management sleeve will keep your office and home neat & tidy with no more tangled cables causing an unsightly mess.
QUICK & EASY TO USE: Gizga Essentials Cable Manager Can be wrapped around the cables with Cloth Fastner locking system. It's easy to install and easy to remove providing maximum flexibility with 18-intermediate holes every 48-Cms along the sleeve to exit cables where required.
PREMIUM QUALITY MATERIAL - Made from highly durable flexible Cloth Fastner neoprene cable sleeve, capable of bundling multiple cables without tearing while protecting cords.
More offers from Amazon India