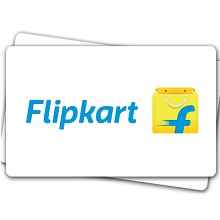 Get Rs.500 Flipkart Voucher At Rs. 460 From Familyjoyz.com
Visit Offer Page
Offer is Valid Till 2 September 2016
Redemption Process:-
Buy Flipkart digital gift vouchers from Familyjoyz.com and receive the voucher code through SMS/Email.
Visit https://https://www.mytokri.com/out/?url=https://...ipkart.com, add products/services to your cart.
While checking out, pay through gift voucher option and insert the voucher code (above mentioned T&Cs apply).
Terms & Conditions:-
This Gift Card (GC) can be redeemed online only against the sellers listed on https://https://www.mytokri.com/out/?url=www.Flipkart.com.
GC cannot be redeemed against COD Orders or to purchase additional Gift Cards.
If the order value exceeds the GC amount, the balance must be paid by either internet banking or Credit/Debit Card.
If the order value is less than the amount of the GC, the remaining balance will be stored on your GC for future use.
The GC expires 12 months from the date of issue, cash or credit Will not be given for any unused balance
GC cannot be redeemed for Cash or Credit but can be transferred.
Flipkart is not responsible if voucher is lost, stolen, destroyed, or used without permission.
Maximum of 3 vouchers can be combined per order.
Company / Purchaser is required to maintain the end beneficiary details for a minimum period of 10 years.
This information is to be maintained under Prevention of Money Laundering Act, 2002, the rules notified thereunder and the Reserve Bank of India (RBI) guidelines on Anti Money Laundering and in view of the Policy Guidelines for issuance and operation of Prepaid Payment Instruments in India issued by RBI.
Company / Purchaser also undertake to share the end beneficiary details whenever requested by FlipKart / QwikCilver Solutions / Reserve Bank of India / or any other regulatory authority.
For complete Terms &Conditions visit our website: https://https://www.mytokri.com/out/?url=https://...ipkart.com.