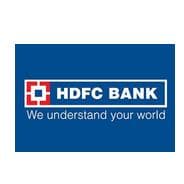 Get 5% Cashback on Online Transaction of Rs.2000 with HDFC Debit Card
Get Offers
About Offer :-
This HDFC Debit card offer ("Offer") is provided to you by HDFC Bank Limited ("HDFC") for the use of a valid debit card issued by HDFC in India ("Card") for making payments for the transactions made on the website amazon.in and the corresponding mobile site and mobile application ("Amazon.in") by Amazon Seller Services Private Limited. This Offer is made available on Amazon.in by Amazon Seller Services Private Limited ("Amazon").
These Offer terms and conditions ("Offer Terms") are in addition to the Amazon.in Conditions of Use & Sale and Privacy Notice to which you agree to by using Amazon.in. In the event of any conflict between the Conditions of Use & Sale and these Offer Terms, these Offer Terms will prevail, only for the purposes of this Offer.
This Offer is by way of a special offer for customers who make payments for their order using a Card.
You are not bound in any way to participate in this Offer. Any participation is voluntary. The Offer is being made purely on a best effort basis.
Your participation in this Offer for availing the benefits is governed by the terms and conditions issued by HDFC for this Offer, available at https://www.mytokri.com/out/?url=https://offers.s...ails/13070. Any person availing this Offer shall be deemed to have accepted the all of the terms and conditions provided at this link, as may be modified by HDFC from time to time, without any liability and without any prior intimation.
Any query / issue in relation to this Offer should be addressed to HDFC and Amazon will not be liable to entertain any communication regarding this Offer from any person. All disputes between you and HDFC will be resolved inter se, and Amazon will not (nor will be liable or obliged to) mediate or resolve any such dispute or disagreement.
By availing this Offer, you expressly agree that Amazon or any of its affiliates will not be liable or responsible for any loss or damage whatsoever that a customer may suffer, directly or indirectly, in connection with this Offer.
Nothing herein amounts to a commitment by Amazon to conduct further, similar or other offers.