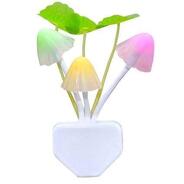 Generic Mushroom Shape LED Magic Night Lamp Automatic Off/On Smart Sensor
About Product :-
Romantic bed lamp. Automatic Sensor. Creative mushroom shape. It is an automatic sensor Night LED bulb, so it will work when the room is completely dark.
Color Changing LED Mushroom Night Lamp. There is soft illumination as well which is very beautiful.
First Put Device In Plug And Start The Switch.Second Make Darkness As Possible.
Artificial Mushroom Automated sensor for Daytime off, Night time on.
GREAT GIFTING OPTION AS WELL: This makes for a great gifting option for just about anyone! Impress your family and friends with this attractive, functional night light.
More offers from Amazon India