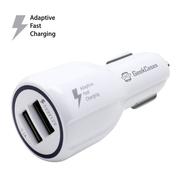 About Product :-
GeekCases Blaze Dual USB Car Charger comes equipped with 2 USB ports, One USB that pumps power at 3 modes for Adaptive Fast Charging (QC 2.0 Equivalent from Samsung) and second port supplies 3.1A of linear power for normal devices. Additional 3.1A Port makes it compatible with about 99% devices avilable in the market.
Adaptive Fast Charging is a power charging technology that dramatically shortens charging times. It adopts the Qualcomm Quick Charge 2.0 standard for pumping the power in devices. This enables the power adapter to provide 3 different range of voltages: 5V/9V/12V, to charge at speeds of up to 75% faster than conventional car chargers. Pumps high power (12v to 9v ) to quickly charge your device to about 50% and remaining 50% through Trickle Charging.
Premium ceramic finish makes it elegant & understated yet high on design. This charger has multi annular grip for easy plug-in and plug-out, blue LED light makes it extremely user friendly in the dim / dark light, making the ports easily accessible.
More offers from Amazon India