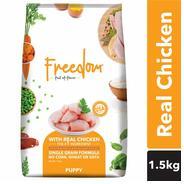 Freedom Puppy Dog Food with Real Chicken, 1.5 kg
About Product :-
Formulated in USA
100% Money Back Guarantee
Adequate supply of DHA (Docosahexaenoic acid) nourishes nerve cells and aids in brain development. A puppy with a healthy brain is easily trainable and more active.
The optimal level of omega 3 and 6 fatty acids along with zinc and vitamin E helps to maintain the soft and shiny coat.
The combination of vitamins and chelated minerals promotes a healthy immune system.
An optimal blend of calcium, phosphorus and essential vitamins helps healthy bone growth and development.
Real fresh chicken is our #1 ingredient, which is an excellent source of high quality protein helps to build strong, lean muscles and support the growth of the puppy.
More offers from Amazon India