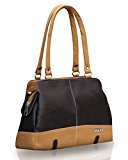 Fostelo Women's Handbag Brown (FSB-406)
MATERIAL : Crafted From Tough, 100% Semi PU-Grain, Which Takes Hits Well And Looks Even Better With Age. Full-Grain Semi PU Is The Most Expensive And Toughest Part. Our Bags Are Made Of Highest Quality PU Fabric Which Is Duarable And Tested To Ensure They Do Not Peel Off.
CRAFTSMANSHIP, STICHES AND PARTS: Our Products Are Designed By Professionally Skilled Craftsmen, Because Of Which The Bags Have Best Finishing In Its Class. Brass/ Metal Fitting Buckles And Holders Are Internally Lined With Strong Green Canvas To Make It Durable And Long Lasting. Every Stress Point On This Bag Is Double-Stitched And Riveted Or Reinforced With Hidden Nylon Strapping.
OCCASION : Looks Great In The Courtroom, Boardroom, Or Worldwide Travel. Our Handbags Has Been Crafted For Casual, Party Wear And Official Use.
FEATURES AND COMPARTMENTS: 10" Tall x 14" Wide x 5" Deep with 3 Compartments Zip Pockets,1 Inside Pocket, And 1 Back Pocket This Product Has 1 Year Warranty Against Manufacturing Defects.
FOSTELO Is A Registered Trademark. Any Unauthorized Sellers Will Certainly Bear The Legal Consequences Of Copyright Infringement. Color May Be Lighter Than It Appears.
More offers from Amazon India