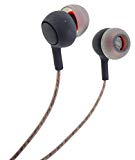 Florona Enterpris Rock BassHeads with HD Sound, in-line mic, Dual Tone Secure Braided Cable and 3.5 mm Angled Jack Wired Earphones (Red)
About Product :-
Passive Noise Cancellation Featuring passive noise cancellation, it enables users to enjoy listening to music in a noisy environment. This feature also enables users to receive calls on-the-go.
Innovation in the design of the in-ear headphones enables for easy adjustment and wearing comfort. The powerful 10mm drivers provide sonic clarity, bass-driven stereo sound and good attenuation of ambient noises.
Crafted with care, the Fiber ensures the longevity of the headphones. The Eartip housing the drivers is created with a polished metal finish that enhances durability of the and provides a premium look and feel to the Bassheads 225.
Lightweight and Comfortable with ear tips that are included allow you to choose a size that gives you the most comfortable listening experience even for longer listening periods
Rexez Rock Rx-141 comes with an amazing amalgamation of style with protection. To ensure additional protection from the threat of corrosion or damage Rx-141 comes with layers of superior tough wire coating. While the earphones are extremely user-friendly & stylish, extruding premium coating onto wire cable is a manufacturing process that we've performing and refining since our company's inception.
More offers from Amazon India