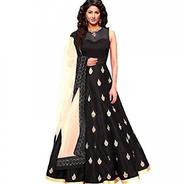 Fashion Vogue Womens Black Colour Tafeta silk Dress Materia
About Product :-
Wedding Wear, Party Wear, Casual Wear, Festival Wear, Unique dress.
NEW DESIGN: Tafeta silk with heavy work on it, Anarkali Salwar Suit Type : Full-Stitched || Size :- Free Size (Stitch as per your requirement)
Anarkali Salwar Suit Fabric: Banglori || Work: Heavy Embroidery Size: Free Size Semi Stitched.
Tafeta silk with heavy embroidery both side, Normal wash.
Shipping Charge Rs.69
More offers from Amazon India