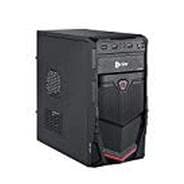 Electrobot Tower PC Assembled Computer with Intel i5 3.20GHz Desktop pc / 4GB Ram / 500GB HDD 7200RPM / WiFi - for Home & Office
About Product :-
PC is Suitable for Office Work, Home Work, Education, College Projects, Computer Programming, Entertainment, Tally, Compatible with C, C++, Java and Other Programming, GST Software, Suitable for low profile Gaming.
Warranty: All Parts are Branded and Comes with 1 Year Warranty On all Parts, ( Processor, Motherboard, RAM, Hard Disk, SMPS, Wifi ).
Sales Package: 1 Tower PC Assembled Computer With Intel Core i5-650 | H55 Motherboard | 4GB DDR3 RAM | 500GB Hard Disk | Wifi | Cabinet. All Connecting Wires Comes with this PC.
You need to Connect VGA Cable, keyboard, Mouse and Power Cable and Your PC is Ready to use in 2 Minutes.Customer can also upgrade RAM and Hard Disk.
More offers from Amazon India