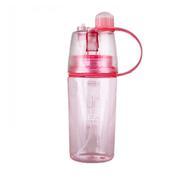 Drink Some Spray Some Mist Bottle - 400ml - Pink
About Product :-
2-in-1 Drinking and Spray Bottle: Has misting and sipping functions.
Not only for drinking, use your spray bottle for cooling in hot weather, after sports or whenever you need to fresh.
Just push the nozzle button and enjoy refreshing!
Makes Everything Simple: Easy to handle and carry, easy to transport, good for traveling (riding or driving),
Smooth and light weight cup, leak proof bottle, fixes most cup holders.
BPA FREE material: Made of high quality, highly durable Tritan.
Capacity- 400ml , leakproof and Child-friendly size.