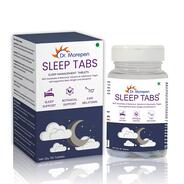 DR. MOREPEN Sleep Tabs | Melatonin 3mg Sleeping Tablets
About Product :-
Better Sleep Cycle: Dr. Morepen Sleep tabs support the sleep to wake cycle by adjusting the body clock through Melatonin that reacts to darkness & wakes you up in the morning when light is up. It ensures reduced sleep disturbances by improving the quality of sleep and decreased nocturnal awakening.
Relaxed & Deep Sleep: Jatamansi extracts act as a brain tonic and helps improve memory and brain functions by preventing cell damage due to antioxidant properties. Tager Extract helps in reducing anxiety & improving sleep as it relaxes the central nervous system due to its sedative & anxiolytic properties.
Stress Reliever: Ashwagandha can help reduce anxiety and stress, help fight depression and may even boost brain function. Holy Basil being an effective sleep aid, is best known for its calming properties that help in stress reduction. Ginkgo helps you to relax after a long day and it may even contribute to improved sleep quality.
Works Naturally & Non-Addictive: These tablets improve circadian rhythm naturally by mimicking the natural endogenous melatonin. These are well tolerated & have a low or no potential of dependence in contrast to other sleep medications.
More offers from Amazon India