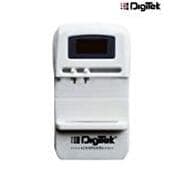 Digitek DLC 002 Universal Travel Charger for 3.7V Lithium Ion Rechargeable Camera Batteries with USB Output & LCD Display (White)
About Product :-
Compatibility: Digital Universal Charger Supports Charging Of 3.7V Lithium Ion Rechargeable Camera Batteries. Charger Also Features A Usb Output Which Can Be Used To Charge Various Portable Devices.
Functional Design: Dlc002 Charger Features Indian Plug And Lcd Display. Ideal For Travel Worlwide With Operational Voltage Range Of 100-240 Volts.
Automatic Terminal Detection: Dlc-002 Automatically Identifies Positive (+Ve) And Negative (-Ve) Terminals Of Battery Connected To Charger Terminals And Automatically Adjusts Itself To Charge The Battery.
Constant Input: Constant Charging Current And Voltage Keeps The Battery Fully Charged And Provides It A Longer Life Span.
Usb Output: Charger Also Has A Usb Output To Charge Various Devices Including Mobile Phones, Mp3 Players And Wireless Devices.
Warranty: Product Is Covered Under 1 Year Manufacturer Warranty Against Any Manufacturing Defect Only.
More offers from Amazon India