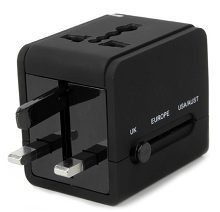 DigiFlip Voyager Worldwide Travel Adaptor/ USB Mobile Charger (Black) Rs. 749 From Flipkart.com
Add to Shopping cart
Final Price = Rs. 1500 - Rs. 751 Off = Rs. 749 + Free Shipping
Place Order
About DigiFlip Voyager Worldwide Travel Adaptor :

Your travels may take you many places, but no matter where you go the Digiflip Voyager Worldwide Adaptor from Flipkart ensures that your devices stay charged and that your trips do not cut you off from the rest of the world.
The handy Digiflip Voyager Adapter is a dream device for international travelers. This adapter gives you compatibility in over 150 countries, so whether you travel to Australia to visit the amazing sights or fly off to the UK or US for the summer, this adaptor gives you complete freedom to travel without having to buy individual socket converters. Theuniversal adapter supports a voltage of 100 to 240 V, so you do not have worry before putting your device on charge in any country.
More offers from Flipkart