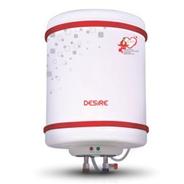 Desire DSH 10-Litre Instant Running Water Heater With On Off Switch / Water Inlet and Outlet Thread Model
About Product :-
Our geyser is portable, Instant, Compact, Less power consumption and affordable price. (Up to 20% saves electricity compare to other storage geysers*)
Compact and Elegant Unique design brings unmatched elegance.
Special Type Heating Element ISI marked nickel coated copper to provide resistance against salts and corrosive particles.
Best in Class Technology Patented nano polymer technology to provide unmatched tank protection against corrosion.
Advanced 3 Tier Temperature Sensing Capillary thermostat, thermal cut out, fusible plug to provide higher safety against accidents.
More offers from Amazon India