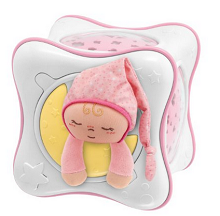 Chicco Rainbow Cube Rs.1120 From Amazon.in
Chicco Rainbow Cube
Add Product to Cart
Fill Shipping Details
Make Payment
Place Order
About Product :
As babies grow up, it can be used as a stylish modern nightlight that continues to create a soothing environment that helps them sleep peacefully
A color therepy sleep toy with music to help babies sleep better
Three different patterns
Heart, star and cloud
Every light effect can work in three directions: up, left and right
Comes in Pink color for a calming and peacful effect and the freedom to cutomise it according to ones room decor
Chicco Rainbow Cube at a price of Rs. 1,120/- only on Amazon India. Babies need lot of sleep to ensure sound and healthy growth. This wonderful rainbow cube emits soft light and plays gentle music which soothes your little one as he/she sleeps. This cube comes in 3 distinct shapes - heart, star and cloud. The cube emits light in directions - upwards, left and right and is customizable according to the decor of the child's room.

More offers from Amazon India