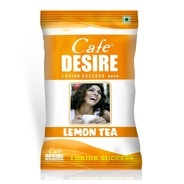 Certified Cafe Desire Instant Tea Premix (Lemon Tea) - 1 kg
Free Shipping
About Product :-
How to Make: Just add 65ml hot water to Cafedesire lemon tea premix to enjoy your instant delicious cup of tea, just like home-made, in less than a minute.
Taste: Good & Nice refreshing and delicious in taste.
Quality: Guaranteed consistency & 100% natural and safe using best quality ingredients and packaging material.
Certified: Cafedesire Lemon Tea premix is certified of FASSAI, GMP & HALAL.
Storage: 6 months.
More offers from Amazon India