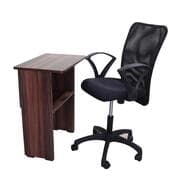 CELLBELL Mid-Back Mesh Office Chair[Black] & Wooden Folding Table[Brown]
About Product :-
Internal frame material: Wood, Upholstery cover: Mesh Cloth | Size: Mid-Back. Gift-wrap Not avilable
Folding Desk: Our folding table is made with Pre-laminated Engineered wood that makes it heavy duty, sturdy, durable and large weight capacity.
The chair has extra padding on the seat, back and armrests for extra comfort | Warranty: 1 year Seller's warranty.
Assembly Required: Just need to connect base with the seat without any tool before using the chair.
We conduct several tests on the products on various parameters such as quality of Raw Material, Finish, Polish, Sturdiness and Durability to ensure that these products are in conformance with International Quality Standard.
More offers from Amazon India