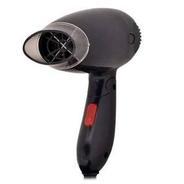 Canor Hair Dryer With Foldable Handle For Easy Portability And Storage
About Product :-
Adjust the desired blowing strength:Position 0: OFF
Position 1: Half Power, Medium temerature for gentle drying and styling.
Position 2: Full power, High temperature for quick drying.
Use the high setting for drying hair, and low setting for styling.
Should the hair dryer stop working for any working turn it off at once and let it cool down.
More offers from Amazon India