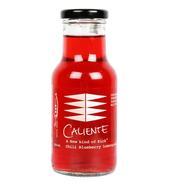 Caliente Non-Alcoholic Organic Swedish Juice Drink, Chilli, Blueberry & Lemongrass, 250 ml
About Product :-
Caliente has chili, which releases endorphins in the body, makes you happy or creates feeling of happiness just like alcohol, but unlike alcohol does nothing but good to the body and for the first time something else than sugar drives a non alcoholic drink.
The flavors are mix of fruits and herbs. Not too sweet? fresh fruit flavor hits the palette first and the delicate herb flavor is the aftertaste, which perfectly pairs with the food made with similar herb. Voila !
Want to go long in the night, serve Caliente on rocks. Ice mellows down the chili , the fruit and the herb and you get exquisite subtle flavors on palette ?for all night long binge? !! plus the "happy feeling" ,Say good bye to sodas.
Free Shipping for Amazon Prime Members,
Subscribe
More offers from Amazon India