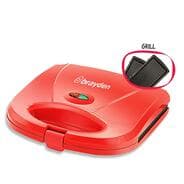 Brayden Furo G10 700 W Grill Sandwich Maker with Fixed Non-Stick Plates, Red
About Product :-
Ready, Set, Go: Thermostat controlled heating indicators tell when your sandwich is ready with Power and Pre-heat lights.
Quick and Easy: From Double cheese to your healthy veggie sandwiches made while you check your whatsapp messages.
We raise the Bar High: Raised cooking edges to make sure that the double cheese sandwiches has a perfect rim.
Easy Click Lock: Locking lid with a strong clip to give your sandwich the perfect press.
Compact and upright storage: It is compact and takes very little space of storage. Nonstick fixed heating plates: We don't want you or your sandwich to flip and is also easy to clean.
More offers from Amazon India