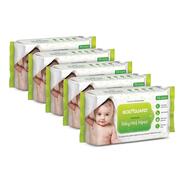 BodyGuard Baby Wet Wipes - (3 Packs, 72 Wipes per Pack)
About Product :-
Enriched with Vitamin-E:The wipes have rich content of Vitamin-E which blocks free radicals from the body and thus it keeps the skin rejuvenated and young.
98% DM Water: De-ionized or Demineralized water is the extremely purest form of water thus doesn't harm the skin in any way plus all the harmful and salt ions are removed to keep the skin secure and repairs the cells.
pH Balanced: The baby wet wipes of BodyGuard are specially designed to clean private parts of babies. They are designed with care and pH is balanced to match the power of hydrogen to baby skin.
Paraben & Alcohol-free: The BodyGuard baby wet wipes are paraben and alcohol-free thus they are safe for babies delicate skin. Also, it doesn't have any alcoholic content which keeps it soft and more wet to be used at any time.
More offers from Amazon India