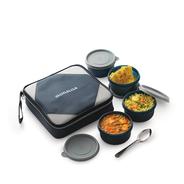 Bms Lifestyle Freshlunch Polypropylene Lunch Box Set, 4 Pieces , Blue
About Product :-
SUPERIOR QUALITY - Here at BMS Lifestyle we are driven by a keen desire to delight our customers and offer novel solutions for day to day use. With our NEW LUNCH KIT for women, men, girls and boys YOUR LOVED ONES will get their daily nutritionious meals, promote healthy diets and enjoy a fashion, elegant LUNCH SET
Microwave Safe CONTAINERS - Microwave safe (without lid) leak proof containers, special slot inside the jacket for keeping fork and spoon.
KEEPS FOOD FRESH and PERFECTLY PORTIONED SIZE - Containers keep food contained to prevent sogginess and STAY FRESHER FOR LONGER HOURS. With a CHOICE of SIZES, MEAL PREPPING will be FUN and ENJOYABLE. It's the BEST LUNCH Box for SCHOOL, work, outing, picnic,travel,sports - our ALL-IN-ONE LUNCH SET will do the job EFFICIENTLY and BETTER than any other lunch set out there.
Free Shipping for Amazon Prime Members,
Subscribe
More offers from Amazon India