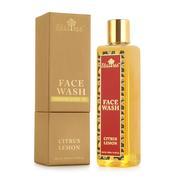 BlissTree Citrus Lemon Face Wash with Lemon Extract Aloe Vera for Moisturizing
About Product :-
EFFECTIVE SKIN CARE SOLUTION: We value in quality ingredients available from the best natural resources, our one of a kind Bliss Tree Citrus Lemon Face Wash is one of the best available treatment for daily skin care. This Face Wash penetrates deep in to the skin to give best results, the formula repair the skin with cleaning and hydrating the skin.
FRESH AND BRIGHT: Bliss Tree Citrus Lemon Face Wash works wonder on the skin for cleansing the skin surface, clearing clogged pores and preventing white and black heads from forming. By controlling other skin imperfection like blemishes, dullness, sun spots that come with exposure to sun and dust it is the complete solution for skincare.
AGE CONTROL: The boosters in the formulation wash away the dull skin cell causing blemishes, fine line and wrinkles. The nourishing characteristic of the FACE WASH provides daily moisturzation to the facial skin resulting in you looking young and vibrant. The gentle foaming system tighten and exfoliating the skin pores to make skin look fresh.
More offers from Amazon India