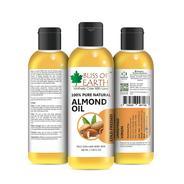 Bliss of Earth Pure & Natural Sweet Almond Oil (100Ml)
About Product :-
Bliss of earth sweet almond oil possess many inflammatory properties, making it great for body massage. It can ease muscle tension, heal cracked skin and promote healthy nail growth. As a mild, hypo-allergic oil, its safe for sensitive skin including baby skin.
To use it as a carrier oil, combine it with bliss of earth essential oils of your choice.
For Skin: To fight wrinkles and achieve a glowing complexion, apply 2-4 drops of sweet almond oil to clean fingertips and gently massage into the skin after washing your face.
For Hair: For use a hair and scalp treatment, massage the sweet almond oil into the scalps. Allow it to sit overnight for best results. Alternately comb oil through either wet or dry hair and wait at least one hour before washing out.
For Baby massage: Rich in oleic acid and linoleic acid, sweet almond oil moisturises the baby skin if massaged before and after giving bath to baby.
Free Shipping
More offers from Amazon India