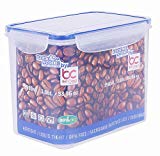 Bel Casa Lock & Store Silicon-Sealed, Clip-Lock Premium Plastic Microwave Safe Kitchen Container
About Product :-
Package Contents: 1 - Plastic container | Container Size: 1850ml
Colour: Random Transparent | Material: Food Grade BPA Free Virgin Plastic
Airtight seal with elasticity power locks & hollowcenter silicone, Microwave, freezer and dishwasher safe. Made from BPA free raw material with high durability & heat resistant ability.
The design of the containers enables excellent space saving in the refrigerator, freezer, cupboard and drawers
100% food grade BPA free made of Virgin plastic containers are ideal for storing spices, pulses, grains and masalas. It is also a versatile choice for storing cut vegetables, fruits and leafy greens.
More offers from Amazon India