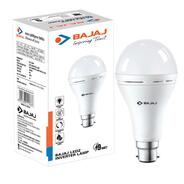 Bajaj Ledz 9 Watt Inverter B22 Lamp | Bulb (Pack of 1, Cool Day Light)
About Product :-
Technical Specifications: Light output - Regular Mode: 900 Lm; Back-up Mode: 300 Lm. It also has a 2.5 kV Surge Protection.
Wattage: It has a wide operating voltage of 220V-240, AC.
Feature: It's lighting back up of up to 4 hrs. It will Auto Cut-Off after battery the is fully charged.
Package Contains: 3 pcs. 9W Ivora Inverter LED Lamps.
Warranty: It has a 1 year of warranty.
More offers from Amazon India