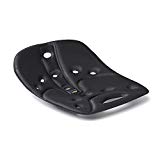 BackJoy - SitSmart Relief, Black
About Product :-
HIGHLY RECOMMENDED BY EXPERTS: If you sit for long periods of time, posture support is key. SitSmart is a simple posture corrector that restores the natural curvature of the spine to relieve lower back pain. Without SitSmart, your muscles flatten and tense under your body weight, causing pain.
NATURAL, SAFE AND EFFECTIVE BACK PAIN RELIEF: SitSmart is a safe and effective way to improve posture that prevents back pain while you sit. SitSmart automatically positions your body in correct posture for all-day comfort.
TILTS THE PELVIS UPRIGHT TO ENGAGE CORE MUSCLES: SitSmart encourages your spine to move, "float" and adjust while sitting, Its patented design works by tilting your hips upright and comfortably "floating" your spine over the seat, you feel refreshed even after hours of sitting.
MAXIMUM COMFORT FOR LONGER PERIODS OF SITTING: It provides all-day posture support to keep you feeling comfortable for hours. it will relieve the pressures and strains caused by sitting that aggravate your underlying condition so you can be comfortable.
WORKS IN ANY SEAT-OFFICE, CAR, HOME-OR ANYWHERE YOU SIT: Works in any seat-office, car, home, or outdoors. Suitable for 55 kg + and above. ? Imported from BackJoy Orthotics, LLC Boulder, CO USA.?
More offers from Amazon India