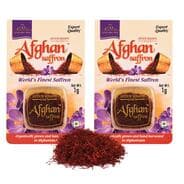 Ayoub Khan's Afghan Saffron/Kesar (2 g)
About Product :-
ABOUT AFGHAN SAFFRON: Ayoub Khan's Afghani kesar offer the world's finest Saffron from the fields of Afghanistan. It is a natural product and hand harvested.
BENIFITS: Saffron acts as an antidepressant and Helps in controls emotional stress in pregnant women. Saffron also helps to control your mood swings, if consumed every day. During the pregnancy period, the skin becomes dry and dull. Saffron can be used in face packs to give a supple glowing skin.
USES: Saffron is used in temples to perform varied rituals that include poojas, archanas, yagyas and it is also used as an ingredient in the preparation of the deity's blessings
HOW TO USE: We Suggest you to Soak the Crushed Saffron in 20 ml of hot water, milk or wine for at least 30 minutes; The saffron threads will transmit their taste, aroma, and colour to this solution, which can then be used to add the desired flavor in your saffron based dishes. One can also leave this mixture for the whole night to create a potent infusion Aghani Saffron threads can also be crushed into a fine powder which can be used to prepare paella, bouillabaisse, risotto etc
PURITY: 100% Natural, Non-GMO, Gluten Free, Vegan, No Preservatives or Additives.
More offers from Amazon India