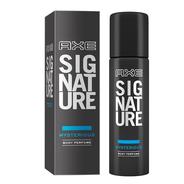 AXE Signature Mysterious Body Perfume, 122ml
Apply 10% coupon
About Product :-
3X more perfume*
Set your pulse racing with this perfume from the Signature Range of Axe that is a perfect & divine blend of style & aroma. This perfume reveals the hidden charm of the contemporary man.
Woody & musky notes. The woody & musky notes of this perfume leave a trail of classic aroma behind.
Long lasting body perfume. Stay fresh all day with this long-lasting fragrance that gives you protection against body odor.
Free Shipping for Amazon Prime Members,
Subscribe
More offers from Amazon India