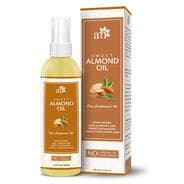 AromaMusk 100% Pure Cold Pressed Sweet Almond Oil For Massage
About Product :-
100% PURE AND Natural - Our sweet almond oil is unscented, undiluted, cold pressed and contains no added ingredients. Tested for purity with every batch, our oil is safe for even the most sensitive skin types.
TOP QUALITY BEST ALMONDS - Unlike bitter almonds, our almond oil is pressed from the sweet almond tree, Prunus amygdalus. Sweet almonds are known for their heavenly aroma and flavor, and provide a source of vitamin E and phytosterols for a more youthful, radiant complexion.
SKIN & HAIR SOFTENER - Sweet almond oil nourishes skin and hair and can be added to your daily beauty routine morning or nighttime. Almond oil is great for DIY beauty products such as boly oils, beard oils, hair moisturizers, lotions , under eye serums etc.It's also a nail strengthener!
NATURAL MAKEUP REMOVER - As an all-natural makeup remover, our almond oil is suitable for stubborn eye makeup, foundation and more!
AROMATHERAPY MUST HAVE - Our sweet almond oil is an ideal carrier oil for all your aromatherapy needs & is also used as base oil for for massage oil due to its emollient feel and no odour.
More offers from Amazon India