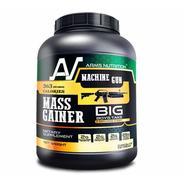 Arms Nutrition Machine Gun Mass Gainer 1 kg (Chocolate Ice Cream)
About Product :-
Machine Gun Mass Gainer is a high calorie mass gaining formula helping athletes achieve serious calorie requirements in their diet.
A 100gm serving of Machine Gun Mass Gainer equips you with 25gm Premium Protein, 2gm Leucine boosting protein synthesis, 2gm Glutamine to help reduce muscle breakdown and 2gm Creatine to fuel your muscles during high intensity exercises.
Machine Gun Mass Gainer contains 25gm protein per serving coming from 7 different sources leading to timely Protein release in 7 phases.
Over 360 Calories, 7 vitamins and multiple enzymes boost your size gain goals and help you to take your physique to the next level.
More offers from Amazon India