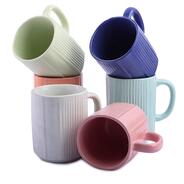 Anwaliya Aitne Series Ceramic Coffee Mugs, 300 ml, Set of 6, Multi Colour Square (Color May Vary)
About Product :-
Coffee mug made without any chemical process, perfect size for your morning coffee or tea.
Simple minimalist traditional design that matches with your decor and a variety of other dishware.
Large handle with round design allows you to cradle the coffee mug very comfortably.
Lead Free Smooth glaze prevents the any stains from remaining easily.
No Harmful Chemicals. Better than glass and plastic material. Handmade by the hard-working potters of Uttar Pradesh, India.
More offers from Amazon India