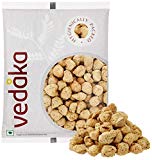 Amazon Brand - Vedaka SOYA Chunks, 200g
About Product :-
Vedaka Soya is hygienically packed and undergoes stringent and rigorous laboratory tests to meet FSSAI food safety norms
Sorted to deliver consistent quality
No artificial flavours. No preservatives
Net weight: 200g
Cooking instructions: 1. To 1 cup soya chunks, add 3 cups water in a pan. 2. Add a pinch of salt (optional) and cook in an open pan for 5 minutes on medium flame. 3. Rinse the cooked chunks in cold water 4-5 times. 4. Squeeze dry and add to your favourite recipes!
More offers from Amazon India