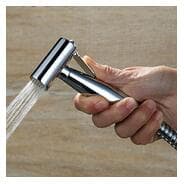 ALTON RD13041 Brass Health Faucet With 1.25 Meter Pvc Tube and Wall Hook (Chrome)
About Product :-
Material: Brass, Finish: Chrome
Package Content: 1-Piece Health Faucet, 1-Piece Tube, 1-Piece Wall Hook & Installation Accessories
+A good cartridge lets you conveniently open or stop water flow from the spray head.
This health faucet set can also act as a cloth diaper sprayer, shattaf, shower or toilet sprayer for rinsing and cleaning. Handicappped, elderly, seniors, adults, and disabled may also find advantages of this system for recovery, assistance, and special care.
Designed with your modern bath in mind the A1 delivers a quality finish for a quality product you deserve. Increase the functionality of your bath with the addition of the A1.
More offers from Amazon India