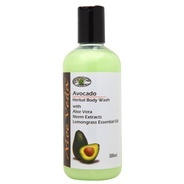 Aloe Veda Avocado Herbal Body Wash, 300ml
About Product :-
Aloe vera extracts, glycerine, vitamin e, rich moisturiser,, luxury aromatherapy, suits all skin types, contains aloe vera, paraben free, not tested on animals
Aqua, sles - 18%, coco-di ethanolamid - 2%, coco mono ethanolamine - 2%, kathon cg, ethylene gycol mono stearate, aloe vera gel-4%, avocado frgarance and extracts, neem extracts, lemongrass essential oil.
Aloe Veda is a customer-focussed luxury wellness and beauty brand from South India and the Official Skin Care Partner for Femina Miss India pagaent. Aloe Veda is inspired by Ayurveda and Aloe Vera.
More offers from Amazon India